Who We Are
Montessori Philosophy
Our Staff
Who We Are
Paramount Montessori is a privately owned and operated preschool (Licensed Daycare). We are at 128, Morrisville Square Way, Morrisville, N.C-27560. Conveniently located at Morrisville Square shopping complex, off Morrisville Carpenter Road between highway 54 and Davis Drive and is easily accessible for families in Cary, Apex, Morrisville, Chapel Hill, Raleigh and R.T.P. area.
Children in Maria Montessori's words are "human beings to whom respect is due, superior to us by reason of their innocence and of greater responsibilities of the future." We at Paramount Montessori believe and follow Dr. Montessori's footsteps through our beautifully designed Montessori materials in a nurtured, loving and caring environment where children feel happy and safe.
Paramount Montessori offers a wonderful program for the ages (2-6) years with Montessori certified staff. It is an incredible aventure to young children's mind and body. The best way to get a feel of this exceptionally great program is to see it. Call us to schedule a tour. I am confident that you will be impressed with what we have to offer.
Why Paramount Montessori
At Paramount Montessori our specially enriched learning environment with age appropriate Montessori materials, child size furniture, low staff child ratio, safe and clean environment helps children to engage in activities of their individual choices. We have bright open classrooms and also outside play area. Children explore our stimulating materials under the guidance of well experienced teachers and thereby make intellectual discoveries. They develop confidence, self-discipline, independence and a passion for learning. Individual lessons are given in practical life, language, sensorial, math, art, reading, culture and geography , science .We also gather for group activities twice daily for songs, group lessons, calendar time and stories.
Maria Montessori
Maria Montessori was born in 1870 in Italy. She was the first women to receive a medical degree. During her age she was very distressed with the rigid teaching techniques used in Europe. She believed that young children had more potential than what educators realized and then started developing her approach based on sensorial exploration. She believed –
Natural interests in exploring the world through sense Children living freely in it
Changing the environment to the needs of the child's physical,mental, emotional and spiritual needs to fulfill the greatest potential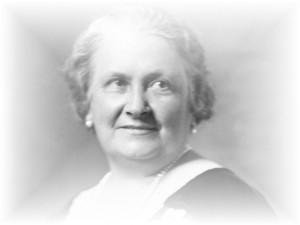 What is Montessori approach?
In Dr. Montessori's philosophy young children are motivated from within and have a natural curiosity to learn. She believed "No human beings can be educated by another person." So the goal of early eucatiom is to cultivate the child's own desire to learn. Dr. Montessori also observed that children go through sensitive periods in life from birth to six years. Sensitive period is a term referred as dot age period, where child shows unusual capabilities in acquiring particular skill. Dr. Montessori was so impressed with the learning ability of a young child that she referred the mind of a child as "Absorbent Mind." The child actually inhales everything from the environment like a sponge. Therefore in her belief the prepared environment with the help of trained teachers opens the window to countless stimulation, observation and discovery.
Montessori Vs. Traditional
Teacher guides the learning process and helps each child with individual attention.
Children can choose what they would be working on.
Many individualized instructions.
Children develop self-discipline from the environment and inner self.
Purposeful movement around the room.
Different age grouping together helps children bring in a feeling like a family. Older children often help younger children.
Sometimes children work in small groups.
Materials prepared for the children are usually designed for the individual needs.
Children can work as long as they want to in a given project.
Children discover from the specialized materials and make new extensions from lessons.
Child sets his own learning pace.
Materials are self-corrective. So the control of error is built in.
Multisensory materials for exploration.
Child feels successful internally.
Organized program for care of self and the environment.
Parents have to understand the Montessori philosophy to have their children participate.
Teacher is the center in the classroom. Everything in the classroom is teacher directed.
Children are not allowed to choose their own work.
Group instructions.
Teacher is the source of discipline.
Restrictive movement.
Same age grouping.
Mostly teaching is done by the teacher.
Curriculum is structured and is same for all children. No attention is paid to the individual needs of every child.
Children are allotted specific time to work on a given project.
Concepts are largely guided by the teacher.
Instructional pace is usually set by the teacher.
Errors are pointed out only by the teacher.
No hands on materials.
Learning is externally motivated by reward system.
No such emphasis.
Parental involvement is voluntary.
Head Of School
Kaushiki Biswas is the head of Paramount Montessori School. She lives with her husband and two boys in Morrisville, North Carolina. Kaushiki has a master's degree from Jawaharlal Nehru University which is one of the premiere universities in India. She has earned Montessori certification for ages (3 -6) years under American Montessori Society , at North Carolina Center for Montessoritraining and education (NCCMTE) and has also completed the administrative certification for schools here in North Carolina. Her teaching experience includes working as a Montessori teacher in a charter school and then at the Wake county school systems at Poe Montessori Magnet school.